From, More Books and Things: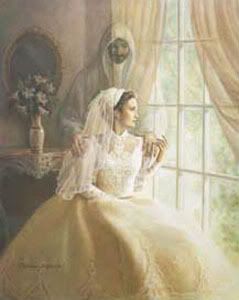 As the bride anxiously awaited the arrival of her fiance, she read and re-read the tattered love letters he had sent her. There were enough to make a book. She had gotten to know him very well through pen and paper during these past few months and could hardly wait for his return
She could think of none other than her beloved and the day they would be wed. Soon he would carry her off to the safety of his Kingdom, far from the danger of the great dragon that stalked villagers who strayed, seeking whom he may devour.
As she lit her lamp in the twilight, a rider on a dark horse rode up and handed her a letter.
Another one? At this hour?
The rider trotted away to deliver his sack of letters to every house in the village.
Her anticipation quickly faded as she broke the unfamiliar seal and saw the strange handwriting. Her heart raced as she read how the author claimed to know her beloved, but was saying things about him that she knew were not true. She gasped at the realization that everything she knew was being cleverly reworded…the agreed price of her dowry, how she had been found by her fiance and rescued from the wicked fate at the slave market. But now their story was being twisted on this paper she held in her trembling hands, as even the promise of his return and the planning of their wedding banquet were now being challenged and denied!
Hot tears rolled down flushed cheeks as the bride closed the door behind her, sank to the hard marble floor and wept. Not for herself, because she knew her groom. But she wept for all those who would surely believe this well crafted new tale that was being spread with the echo of each hoof beat.
She wondered if there would be any guests prepared to come to the wedding supper now.
There had already been rumours that she, a poor adopted peasant girl, was not worthy to be betrothed to the King, and that the people must begin building and preparing their own kingdom before He would even think of returning. To make things much worse, no one had sighted the sly dragon for some time now, but she had seen tracks beside the village fence every morning.
How many were already believing the false murmurings of peace? Would her groom find anyone left ready to accompany them into the new Kingdom where they would dwell in safety forever? She needed go quickly and warn the people! They must hear the truth before it was too late! Her groom was due to arrive any day now, her white linen dress was ready to go, her lamps were filled with oil…but perhaps there was still time left…
Day light was fading. Suddenly she felt very tired. Sighing heavily, she held the letter above the flame of the oil lamp. As she watched the fire consume the lies, she was startled by a knock on her door…
****
This touched my heart….