It sure seems we're seeing more and more instances of out-right public lying. People seem to be willing to promote lies for a cause [many times today, the cause is either political or to do with cultural issues), while still others are quick to embrace the lies and liars, because they want to believe them for their own personal reasons/agendas.
That's delusion folks…
"..with all deceivableness of unrighteousness in them that perish; because they received not the love of the truth..And for this cause God shall send them strong delusion (*Greek: "the powerful working of error"), that they should believe a lie" 2 Thess.2
This is a sobering thought and explains in part why people who are falling away today, ignoring truth, can be so easily duped into following the weirdest false doctrines imaginable.
Those scriptures came to mind when posting the two video's tonight on the birther movement under the topic "Somethings" on the Loose; how even more Christians then ever today, are willing to believe a lie if the lie feeds into something they want to believe is true.
Then I saw this story below. An instance in which a Baptist newspaper "fudged" a fact for a political cause…in short, they lied.
Have we finally reached that point in which God is confirming the lies our hearts wish to embrace?  Are we participating in attacking some people, while defending (to the death, others), only because of our need to believe lies we have embraced concerning them?
When we are afraid to examine facts, we are rejecting the truth folks. If we have come to the time  foretold of in the bible when God Himself sends strong delusion, then the Lord is indeed AT THE DOOR.
"And that, knowing the time, that now it is high time to awake out of sleep: for now is our salvation nearer than when we believed" Romans 13
Forgive me, but the sheer magnitude of the number of Christians who are both willing to lie AND willing to believe a lie, is just astounding to me.
quote..
OKLAHOMA CITY (ABP) — A Baptist newspaper in Oklahoma has apologized for publishing a graphic illustration digitally edited to make it appear a controversial proclamation declaring America a Christian nation was endorsed by the state's Baptist governor.
The Baptist Messenger, official news journal for the Baptist General Convention of Oklahoma, covered a July 2 rally at the State Capitol promoting the "Oklahoma Citizen's Proclamation for Morality."
The driving force behind the document is Sally Kern, a state legislator best known for commenting that homosexuality is a greater threat to America than terrorism.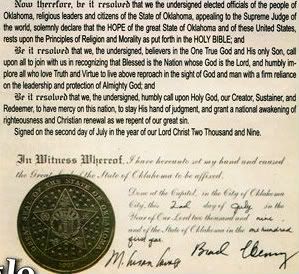 The newspaper published the report in its July 16 issue, alongside artwork carrying the full text of the proclamation appearing on official state letterhead and signed by Gov Brad Henry and Secretary of State Susan Savage.
Problem is, Henry — an ordained deacon and Sunday school teacher at First Baptist Church in Shawnee, Okla. — did not endorse the proclamation, which has been at the center of a controversy about separation of church and state.
Media reports said the newspaper apologized to the governor's office. Kern told the Daily Oklahoman she was the first to alert the newspaper about the error, which she saw when her husband, a Baptist pastor, brought a copy home.
Kern's proclamation blames a number of social ills on departure from the "rich Christian heritage upon which this nation was built."
Critics say the proclamation is riddled with revisionist history and accuse Kern of trying to use religion for political gain.
According to media reports, the July 2 gathering at the state Capitol turned into a shouting match between protesters chanting "Shame on you!" and "Love thy neighbor" and those supporting the proclamation drowning them out by singing "God Bless America."
Kern, a Republican, is a member of Olivet Baptist Church in Oklahoma City, where her husband, Steve Kern, is pastor.
DELUSION:
1: the act of deluding : the state of being deluded
2 : something that is falsely or delusively believed or propagated: a persistent false psychotic belief regarding the self or persons or objects outside the self that is maintained despite indisputable evidence to the contrary.
Something that is believed to be true or real but that is actually false or unreal; delusion implies an inability to distinguish between what is real and what only seems to be real, often as the result of a disordered state of mind <delusions of persecution>. illusion implies a false ascribing of reality based on what one sees or imagines <an illusion of safety>